Artist Serena Viola Corson does not take the creative life lightly. In fact, she believes that the decision to be an artist comes with great responsibility. She ponders many questions about how to do her justice.
"Do I embody freedom?" asks the artist in an interview with 48hills. "Am I giving back to the community? Am I paid fairly like any other job deserves to be? Am I underestimating myself? Am I doing enough research? »
She is fully aware that it is not an easy or stable job. However, she is trained. Pulled to do it, by what force she is not exactly sure.
"I've always drawn and painted and when I realized I could major in art in college, I jumped on it," says Corson.
Corson grew up moving throughout the Southeastern United States with his single mother, amid financial instability and the 2009 recession. They eventually settled on Florida's "Space Coast" (as the area that houses the Kennedy Space Center and Cape Canaveral Space Force Station is called) where she spent her teenage years.
The current Haight-Ashbury resident landed in San Francisco by divine providence.
After completing her BFA at Florida State University, she worked for an artist and ran an art gallery for a year in Tallahassee. Then she decided to change and moved in with a friend who lived in the woods along the California-Oregon border near Ashland.
"I worked briefly on a cannabis farm and just loved being in the woods and reading and cooking a lot," Corson explains.
She planned to move to New York to be closer to her family and immerse herself in the art scene, but first an opportunity to visit San Francisco presented itself. Here she met a man, fell in love and changed her destiny.
Corson's roots as a creative soul run deep. Her grandmother was an artist, poet, opera singer, harpist, teacher and mother. She died when Corson was just two years old, although the artist continues to feel strongly connected to her grandmother through the hundreds of artworks and dozens of journals she left behind.
"I wish more than anything I could have a conversation with her now, but I'm sure she's speaking through me," Corson shares.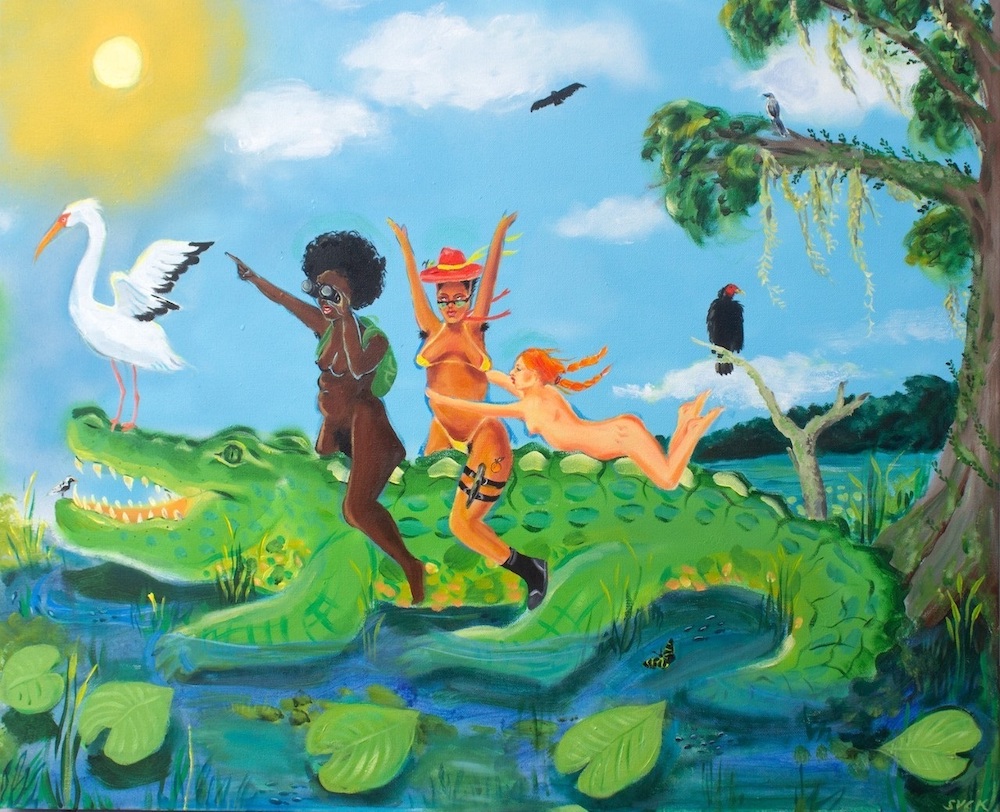 Corson is a lover of life and all beings. She loves walking outside, her cat, books, her lover, her roommate, cooking, writing, thinking and talking to people.
"I find poetry and inspiration in most things, the deep sadness and tragedy and joy that is constantly unfolding," she explains. "Clinging to the fact that there is mystery and things are not so black and white and bureaucratic. We are on a rotating rock in the universe.
Corson conceives his art as a ritual, a gathering and a public manifestation. Engaging in multiple expressive angles – much like her grandmother – she explores photography in addition to her painting, content for zines and interactive performance art. She also has a jigsaw picture design contract for Goodfit Puzzle Companywhose products are available on the Denver site of the arts and entertainment company meow wolf.
She has militant leanings and is the founder of a women's collective called Mystic Moon Mamas. The group prioritizes platonic love, with gatherings that are radical celebrations of fun, joy, eroticism and community bonding, according to the teachings of Audre Lorde. Coincidentally, after forming the collective, she discovered that her grandmother was also part of a feminist lunar group.
"It's about prefigurative politics and a symbolic challenge to the structure of the nuclear family," Corson said.
Being raised by a single mother struggling with poverty and being a victim of domestic abuse as a teenager permanently radicalized Corson. It made her wonder how things came to be the way they are and inspired her to work for a better future through self-help, community building and the arts.
Describing herself as "messy, playful and free", Corson's main medium is acrylic paint on canvas or paper, but she plays with spray paint, pastel, ink, markers and crayons. It's in a corner of her common room that the magic happens, because she currently cannot afford a separate space to work. Corson hopes to one day have her own room, but she won't be blocked. Beyond spatial constraints, she organizes herself as best she can, warms up, evaluates and when the time is right, she immerses herself in her work.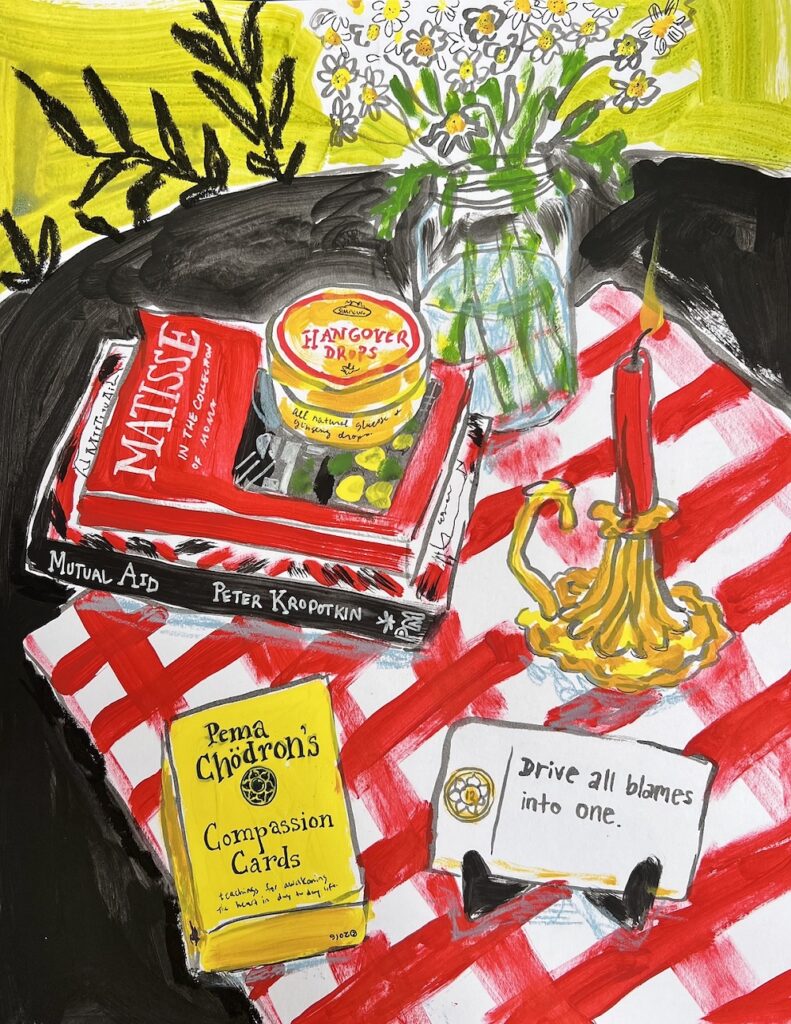 Although her subject matter is varied, Corson's series of still lifes really began to pick up during the pandemic, when she was stuck indoors and surrounded by personal items. The paintings, which also serve as book recommendations for viewers who watch closely enough, draw heavily on the works of Matisse – she even has one of his posters in the background of one of her paintings. Like Matisse, Corson's still lifes are usually finished alla prima – the "first try" approach in which paint is applied wet-on-wet, without allowing previous coats to dry, and completed in a single sitting.
"Apart from objects, I also really like painting people and pigeons," she says. "Essentially, I'm inspired by my environment, my friends and my community, and the relatedness of human and non-human species."
Paintings like "Manifestations of LUV" and "The Garden of Revolutionary Pleasures" are depictions of friends having fun together, with a message to embody more moments of joy, and a nod to Hieronymus Bosch. Corson says the imagery in some of his work is also a response to our isolationist culture.
A recent larger canvas (36 by 48 inches) brings together a collection of found objects mingling on the sidewalk: a pair of heels, sneakers, loose books, and a few curious pigeons. Corson finds the things she encounters on the street to be hilarious, but also witty messages. Some recent finds incorporated into another new painting include religious documents, a pamphlet on herbal abortions and a book titled Queer werewolves are destroying capitalism.
"I'm not kidding," she said, "I didn't look for this stuff, it came to me."
Corson has had a very busy summer. She exhibited three pieces as part of the competition exhibition "No Way Out But Through", at the Berkeley Art Center, for which she won the jury prize. The show explored how we dealt with the collective grief of pandemic isolation, made more horrifying with the social injustices that have so blatantly targeted marginalized communities.
As an artist-member of San Francisco Women Artists Gallery on Irving Street, she was part of a group show called "Being Human—The Figurative Show." To top it off, she will be exhibiting works at Pamplemousses Gallery in Richmond, Virginia, in an exhibition curated by one of his favorite artists, Kevin Sabo. Who said a bedroom corner wouldn't be enough for a burgeoning artist?
Serena Viola Corson proves that what comes from within will find its way out onto the canvas, regardless of space constraints. And what does she expect us to experience on the other side of her job? In a word: emotion. In her own emotional orbit, she focuses on building strong relationships, mindfulness, writing, reading, walking, food. In two words, human being.
For more information, visit his website at serenaviolacorson.com and on Instagram @serenaviolaart.