Life between the islands is an exhibition of protests and pleasures, celebrations and insurgencies. In preparation for several years, and as important as it is timely – as well as for a long time – it is also an exhibition of arrivals, departures and returns. Filled with variety and complexity, the well-known and the lesser-known, the forgotten or rarely shown in this country, it takes us from pre-war London and the sculpted figures of Ronald Moody, to digital animation and to the examination of successive regimes of punishment. and the restrictive immigration law of the 1800s to the hostile environmental policies of the current government, in a work by the Otolith group.
A vast catalog enriches this striking exhibition of some fifty artists. We visit the home of fictional political activist Joyce, in Michael McMillan's mockery of a 1970s West Indies front room. On TV, the 1976 film Pressure by Horace Ové is shown. The first British feature film by a black director, it is a critical appraisal of the life of the Windrush generation and the hardships faced by their children born in Britain.
Ové's photographs of the rise of the black power movement, as well as Neil Kenlock's images of riot shields and racist graffiti, and Vron Ware's photographs for the anti-fascist Searchlight magazine, documenting the 1981 Black Day of Action in the wake of the New Cross arson that left 13 young people dead, are sobering reminders of a period of occasional racism, of grim prospects of resistance and challenge and pleasures taken through thick and thin.
In an array of Denzil Forrester, Winston Rose is dragged and half carried down the street by uniformed police, rushed to death in custody in 1981. Rose was a friend of the family. In Tam Joseph's painting of the night following Cynthia Jarrett's death in a police raid on her apartment in 1985, we see figures with lighted windows and protesters looming against a fire under buildings. Joseph's The Sky at Night is as much a report as it is history painting, an event seen and captured, as evocative as any documentary film or photograph.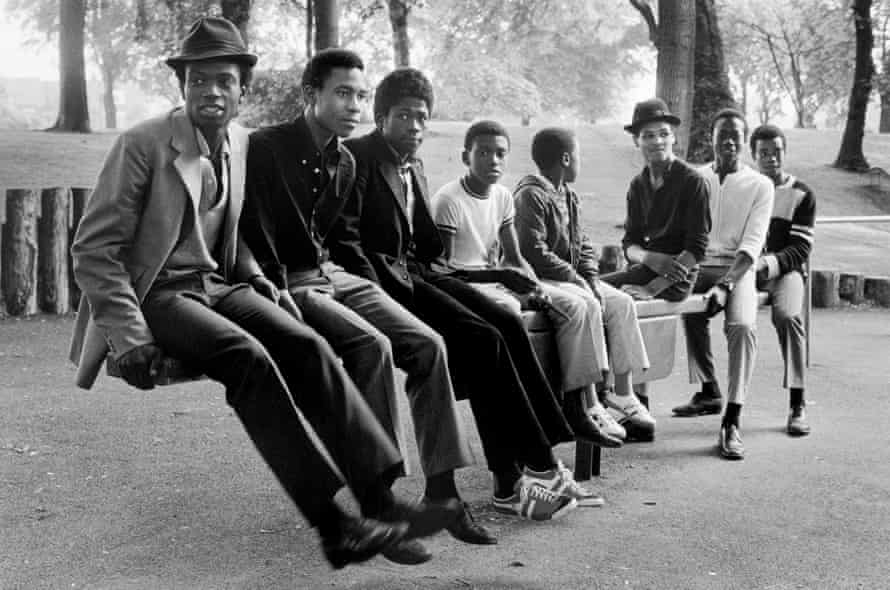 Another young man is beaten on a bed by his father, for speaking Creole rather than English, at a London party wonderfully reminiscent of the 1960s, in a dizzying scene from the 2002 three-screen film by Isaac Julian. Omeros Paradise. With his scenes from the Notting Hill carnivals of 1976 and '84, riot and surveillance, with his voice over and his heavily mixed dub, Julien's first territories, made in 1984 while he was still a student, are always spellbinding. and filled with memorable images, over 35 years since I first saw it.
Protest and resilience, anger and pleasure come together throughout the exhibition. Aubrey Williams' paintings are filled with broken things, dismembered vertebrae and scorched nature. Here, even the abstractions are deceptive – maps of Guyana and South America barely surface in Frank Bowling's paintings, and a deadpan all-black painting by Donald Locke turns out to be an abstract view of fields. regular squares in Guyana, part of the plantation structure imposed by Dutch and then British colonial rule. It is a geometry of oppression.
Tremor and violence are present throughout the exhibition, even if the exhibition is not without humor. In Lookalook, queer Barbadian artist Ada M Patterson prowls the streets of Bridgetown, dressed as some sort of mythological creature draped in black, their hairstyle decorated with shells, inviting looks and comments, insults and laughter. This public masquerade is a mockery, in a deeply conservative society where colonial-era anti-LGBTQ + laws are still in place. In another work, they pass themselves off as a sea urchin, or even an echidna. It sounds painful anyway.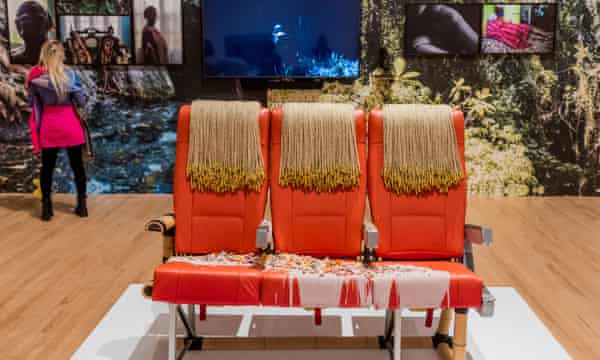 Blue Curry plays on stereotypes of the Caribbean as an abbreviated "leisure and consumption site". Curry's row of plane seats stained with jets of beach sand and seashells, the whimsical headrests adorned with braided synthetic hair, is a dizzying transport to a fantastic destination. Zak Ovéthe carnival faces and figures of, constructed from stranded ropes, mops and ancient masks, play on the transgressive figures of the Junkanoo carnival, as do the decorated busts of Hew Locke – one with the head of King Edward VII festooned in Masonic insignia, almost to the point of completely suffocating the monarch in his decorations. Chris Ofili's mocking blue men and his Napoleonic-era horsemen who turn into uniformed cops populate a saturated and menacing blue world. Ofili and Peter Doig have lived in Trinidad for over a decade, and there's a lovely section of the show highlighting Doig's creative dialogue with Derek Walcott, whose poems also inspired Julien's Paradise Omeros, and appears in the movie.
Dialogues with the Caribbean are increasingly two-way. Throughout the exhibit, Ofili's 2003 Union Black flag, with the union colors replaced by Pan-African red, black and green, will be flown on Tate Britain. It is in part a reminder of what has been called the 'caribeization' of British culture and society, a society born out of an empire whose wealth came from slavery in the Caribbean, that the Conservative Alex Farquharson calls the economic and military center. from the first age of the British Empire. Greeting, sobering, rich and rewarding, what a great and necessary spectacle it is.